Posted on
By Rich Vincent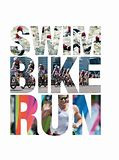 So you run and you enjoy it but you've heard of this different kind of breed that only run after doing 2 other sports first…. What is this that they speak of?
Why would you want to Swim, then jump on a Bike before getting around to the running?
You know what… I thought the same when I was introduced to Triathlon after I'd taken up running a year earlier.
So off I went to a local tri that Spring to see what it was all about.
Wow! What an atmosphere, people of all shapes and ages, men and women, all preparing for their own personal gauntlet, while chatting, smiling and looking a little nervous at the same time.
The support was great too, with the participant's families and friends shouting words of encouragement from the side lines around the course and cheering them over the finish line.
People were wandering around post race, proud as punch with their medals draped around their necks.
This was my first experience of a triathlon and I was hooked, even before doing one.
Within a week I had booked my first tri, even though I hadn't ridden a bike or took a dip in a pool for years.
A friend lent me his spare bike, a full carbon Orbea with Dura-ace groupset, not that I knew back then that was any good!! I got myself down to the pool to see if I could still swim and the training began.
As much as I loved running and had already completed a couple of marathons, the first thing I noticed was the variation in training, that I could now choose something other than running that I enjoyed and improved my fitness in a different way. Since going on to qualify as a personal trainer, I have also learned that this style of 'cross training' has greater benefits for your overall health too.
That was all back in 2010 starting out with a pool based sprint distance triathlon and over the next 7 years I progressed to open water Olympic distance on to Half Iron distance and then the ultimate Ironman distance.
Now you may be thinking that I'm a natural at all 3 disciplines but that is not the case.
Yes I'm comfortable in water as I learned to swim when I was just 6 years old but there is 'being able to swim' and actually 'being able to swim fast' which I soon realised that I needed to work hard on my technique (and still do). As for the bike, well, the last time I was on a road bike, the gear lever was on the frame!
The point I'm trying to make is, whether you think that a triathlon is out of your reach due to not being able to swim or ride, then think again. If you really want to do a tri you can.
As a Level 2 Triathlon Coach, I have taken people from being absolutely terrified of water to doing their first triathlon. Yes it's took a lot of hard work and fear bashing on their part but they've gone from being a runner to swimming, biking and running!
So I'd like to share my Top 5 tips to your get you to your first triathlon
Go and watch or marshall a Tri – by doing so, you will learn so much more, talk to those that already do it which will help keep the nerves a little calmer when you come to do your first.
Beg and borrow equipment to start with – this way you don't need to spend a fortune at the outset. There's plenty of time for that once you get hooked!
Join a club or get some quality coaching – thankfully when I started, my mate was a Level 2 Tri Coach and helped me a lot with my swim technique and cycling skills. By joining a club or finding a friend or Tri Coach will help with these areas, particularly the swim. Even the best swimmers need coaches.
Set out a training plan – Keep it simple and ensure it doesn't get in the way of your other commitments, otherwise you could soon be giving it up before you've started. 1-2 cycle rides, 2-3 runs and a couple of swims a week will have you ready for a sprint. It would also be recommended to include at least 1 x 30min strength training session per week but as a runner you should already be doing this. Total hours 6-8 per week.
Most importantly enjoy the whole experience from training through to the finish line and if you can drag a few mates along with you, then you have yourself some banter, some competition and double the fun!
If you would like any specific advice about gear, training or racing, then please get in touch or call into the shop. I'm always happy to chat Triathlon and Running.
TRIACTIVE TRIBE
IF you haven't already, join the Triactive Tribe here…
…It's a group that we've set up so that you and other like minded runners and triathletes can get to together and share experiences, race info, training strategies, etc.
And Look Out for our Special 'Triactive Tribe Only' Offers!!
Rich 'reminicising' at Triactive
Triathlon  |  Running  |  Adventure