Follow your dreams and achieve the impossible...
OK... this blog is a little different from the norm, although it still has some running in it.
Early October and I took a couple of weeks away from the shop.
In fact I was over 4000 miles away in sunny Florida.
No it wasn't a family holiday, nor was I visiting friends, although I made some new friends whilst out there.
I was there to achieve a long term dream of mine, a dream to take to the skies!
Since watching a guy take off with a 'fan' on his back at a local airfield over 10 years ago, I've always had a desire, in the back of mind, to do the same…
…even though it looked like the craziest thing ever at the time!!
I found it was actually called Powered Paragliding or PPG for short and in the last couple of years the urge to do this just got stronger and stronger.
So I wanted to share with you what my first flight felt like and why it is important to follow your dreams, desires and trying a new adventures…
We arrived at the airport at just before sunrise and it was a calm morning with light wind, perfect for our first take off. Bob and I got our motors on our backs, stepped onto the golf cart and our instructors drove us out to the main field. While we were checking our straps my head started!! Excited, anxious, scared and a whole host of other feelings and thoughts just wizzed through.
Before I knew it I was clipped into my wing and I could hear the calming voice of Lorran our instructor running through all the stuff we'd practiced over the last 3 days.
I was the first to go while Bob watched on. This was it!!! My final thought before I totally concentrated on Lorrans instruction was.....
What the [email protected] am I doing??
...and then it was go go go!
"Hands back, chest forward and hop step towards me."
I did just that and the wing started to inflate behind me.
"Power...power"
I heard the instruction and delayed in reacting before getting on the power.
"Wing tip wing tip"
I checked my wing, it looked good.
"More power....more power, lean back, keep running"
Again I delayed in hitting full throttle but eventually did. I didn't lean back but the motor was now forcing me along and then it happened.....
....for the first time ever whilst out running…. I ran right into the Sky!!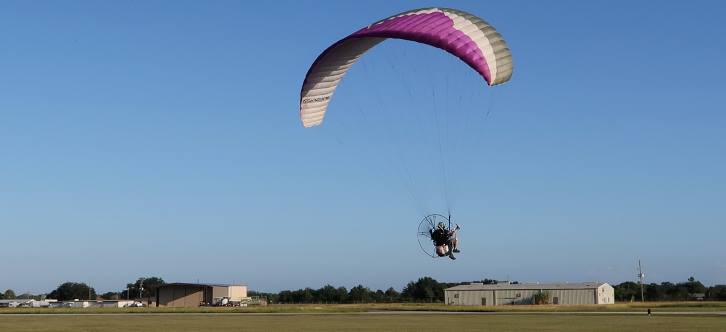 Wooohoooo!! The fear vanished and was replaced with a huge hit of adrenaline.
Lorrans voice was still coming through my headphones and somehow I was still able to follow his commands.
I was heading into what was the most beautiful sunrise coming up over the central Florida landscape with lakes appearing all around and off into the distance. Along with the green of the orange groves and a subtle hint of citrus wafted in the air.
I really do have difficulty describing in words what that feeling is like but it felt so natural, and intuitive once I was flying.
To be in the sky being able to move in any direction, looking down at the ground that just a few moments ago I was stood on. My instructor and fellow students just tiny figures looking up at me.
The views for miles in all directions, the cars on the roads with people just going about their daily stuff and there's me, just hanging around at 500ft up, turning left, turning right, ascending, descending, the wind just flowing over me and the wing.
It was truly beautiful and kind of magical.
"Ok let's get you set up for your landing", came a voice in my ears.
I positioned myself into the wind and with guidance I started to descend. At around 60ft I heard.. "kill your motor".
Sh*t! Now I'm just gliding in, getting closer to the ground. My hands are now fully up and off the brakes.
"Look long" but I must admit that first landing I was fixated with the rapidly approaching ground.
"Wait...wait....pressure" I pulled down on the brakes just a few feet off the ground and immediately it stopped rushing towards me… phew!
And then "FULL FLARE" and I pushed the brakes even harder. Unfortunately I wasn't out of my seat properly and ended up on my backside instead of my feet but it didn't matter.
I was ecstatic, I got to my feet as Lorran, Matthew and Shannon came running over to congratulate me. I'd bloody done it, I'd taken flight!
After a debrief with the motor still on my back, Lorran said "let's do it again".
"Oh yea for sure" I said getting myself clipped back into my wing. Flight number 2 here we gooooooo!
This 2 week adventure has been life changing and there could have been multiple outcomes.
The outcome is that I've found a new sport and Love it. It will compliment the sports I already do and fit right in with my current lifestyle.
It took some planning and some saving up but once I set my mind to it, I was committed to making it happen.
The way I see it, if you want something that badly, you'll do whatever it takes to make it happen…
Why?
…Because
1. It's inside you and it won't settle, like that itch that needs to be scratched, so don't ignore it and..
2. The biggest regrets are always those of the things you DIDN'T do as opposed to those that you did do.
If you've got an adventure or challenge you would like to do or are planning we'd love to hear about it, so please get in touch.
If flying is also a desire of yours, then you're in luck. I've been working with the guys in Florida to bring you a trip of a lifetime that will have You Running right into the Sky!
Check out www.flyfloridappg.com
In my next blog we will have our feet firmly back on the ground.
Until next time,
Rich 'just floating around' at Triactive.
Triathlon | Running | Adventure