Posted on
By Rich Vincent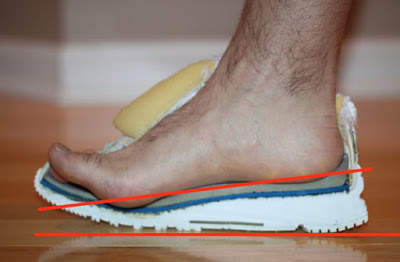 What is heel to toe drop and the and how to decide what is best for you.
Heel-to-toe drop is a measurement that's closely related to cushioning height. Ranging from 0mm to more than 12mm, heel-to-toe drop is the difference between the height at the heel and the height at the forefoot:
Barefoot shoes have a 0mm drop.
Minimalist shoes typically have a drop of 0 to 4mm.
Moderate and maximalist shoes offer a wide range of heel-to-toe drops.
To decide what heel drop will work best for you, consider these tips:
Match the drop of your current running shoes. You'll avoid messing with your body's biomechanics. And be aware that, even if you're buying the same shoe model, you need to double-check the heel drop. Every once in a while, a shoe brand will alter the heel-to-toe drop when it updates a shoe's design.
If you don't have running shoes, look at your other shoes. First look at your other athletic shoes. If you don't have any athletic shoes, then look at your casual shoes. Most shoes will have a moderate heel-to-toe drop, which simply suggests you avoid trail runners that are at or near the 0mm and the 12mm ends of the spec range. If you wear flats or flip-flops all the time, then low-drop shoes might be fine.
A low heel drop encourages a midfoot or forefoot strike. The result is a more stable landing platform, along with better balance and muscle engagement. This beneficial biomechanical shift is a big appeal of barefoot and minimalist shoes. Not everyone benefits from—nor can transition to—a low-drop shoe, though.
If you are considering changing to barefoot or minimalist shoes, take it slow. Plan on a few months of transition time and some discomfort as you make the physical adjustment. I'll be looking at barefoot running in more detail in another blog.
Note that you can also find shoes with moderate and maximum cushioning that have a low heel drop. Switching from a well-cushioned high-heel-drop shoe to a well-cushioned low-heel-drop shoe is not for everyone. It entails some discomfort and takes a little transition time.
Fit is more important than any other consideration. A shoe that gets rave reviews isn't a great shoe for you unless it fits your foot. And getting a good fit involves more than length and width. Feet are biomechanically complex and a good fit will also account for factors like arch shape, arch length, foot volume and more.
Consider shoe lasts: Each brand builds its shoes around a sophisticated foot form called a "last." Your goal is to find which brands have a last that's similar to your foot. Then you can shop online and have a better chance of getting shoes that fit.
Don't assume you know your shoe size: Your feet change as you age and sizes vary from brand to brand, so it's always wise to get them properly fitted. Then you need to account for the fact that your feet swell as you run: You'll want shoes that provide adequate length and width in the toe box.
Get a Gait Analysis: A footwear specialist can assess your size and gait advising you about how different brands fit and give support. Here at Triactive, we can do this for you, but you should plan ahead for the best experience. You don't have to make an appointment, but we recommend you pick a less busy time or book an appointment online to guarantee your slot.
Finally, a footwear specialist can help you walk out with shoes that alleviate a wide range of foot issues, like bunions, hammertoes, plantar fasciitis and more. A specialist can also account for your orthotics or find a premade insole to meet your needs.