In conjunction with Mountains in Mind we are please to offer you a trip of a lifetime to the Roof of Africa, a 10 day expedition on Mt Kilimanjaro.
We have only 10 places available as we like to keep our groups small, meaning you will have a greater experience, get to know your fellow adventurers and be looked after on a personal level by our experienced team.
You can secure your place by paying a £250 deposit today. We will then set up a payment plan to suit you with the final payment required by 30th June 2019.
Please get in touch should you have any questions and we look forward to welcoming you on this amazing adventure.
What's Included?
International flights from the UK
Transfers to/from the airport in Tanzania
Accommodation in the Weru Weru River Lodge, Moshi
Breakfast and evening meal in the Lodge
Celebratory meal after the ascent
A fully supported local guides and porter team
Tent accommodation on the mountain 
All meals during the trek 
Oxygen
VHF radios
Medical support on the mountain
A UK Expedition Leader
All national park fees
Online support and advice
Training plan
Option to attend a training weekend at additional cost (UK clients only)
Plus memories and friends to last a lifetime !!!
What's NOT Included?
Personal insurance
Visa (obtainable at Kilimanjaro airport)
Lunch and beverages in the Lodge
Extra meals, snacks or drinks on the trek
Porter Tips ($230)
Any additional excursions
Full Schedule - Lemosho Route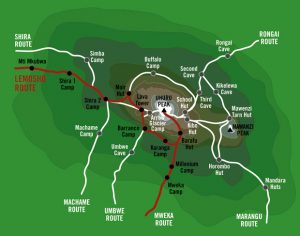 Saturday 21st September 2019
Depart Heathrow
Sunday 22nd September 2019
Arrive at Kilimanjaro airport and transfer to Weru Weru River Lodge.
Monday 23rd September 2019
Travel to the start of the Lemosho route. Lemosho Glades (2385m) to Big Tree camp (2780m).
Transfer from the hotel to the Lemosho gate of Kilimanjaro. Begin the trek and climb steadily through the forests of the Lemosho glades to reach Big Tree camp where you will spend the night.
Distance covered: 7km/4.3miles
Approx. time taken: 4 hours
Tuesday 24th September 2019
Big Tree camp (2385m) to Shira Camp 1 (3500m)
Trek across a plateau of grassy moorland and heather scattered with volcanic rock formations to reach Shira 1 Camp.  We gain a reasonable amount of altitude today and parts of the route are fairly steep.
Distance covered: 8.5km/5.3miles
Approx. time taken: 7 hrs
Wednesday 25th September 2019
Shira camp 1 (3500m) to Shira camp 2 (3900m)
Climb steadily across the moorlands of the Shira Plateau to help with acclimatization.  Our destination today is the Shira 2 Camp. 
Distance covered: 8km/5miles
Approx. time taken: 5 hours
Thursday 26th September 2019
Shira camp 2 (3900m) to Barranco camp (3960m)
Today you will walk into the climatic zone of the upland desert. You will reach the distinct pinnacle of the Lava Tower (4640 m), our high point for the day before  descending  to our camp for the night located at the base of the Great Barranco Valley (3960 m). 
Distance covered: 10km/6.2miles
Approx. time taken: 7 hrs
Friday 27th September 2019
Barranco Wall (3960m) to Karanga camp (3963m)
We descend into the Great Barranco, a huge ravine and exit steeply up the Great Barranco Wall.  From here we have a steep ascent to our campsite at the Karanga camp, set at 3963m. There will be a short acclimatization trek up to around 4200m before descending back to camp for the night.
Distance covered: 5.5km/3.4miles
Approx. time taken: 5 hours
Saturday 28th September 2019
Karanga camp (3963m) to Barafu camp (4640m)
We set off on our walk to Barafu camp at 4640m. On arriving at camp we eat and spend the afternoon resting as we prepare for a long night and day ahead. We have an early dinner and then try to get some sleep as we will be getting up at between 11pm.
Distance covered: 3km/1.9miles
Approx. time taken: 3 hours
Sunday 29th September 2019
Barafu Camp(4640m) to Uhura Peak(5895m) & down to Millennium camp(3790m)
We leave camp at around midnight and walk steeply upwards to the summit glaciers. We will be climbing scree for 4 to 5 hours and should reach Stella Point (5739m) at dawn. Another hour's walking takes us to Kilimanjaro's summit, Uhuru Peak (5895m). The descent is via Stella Point and then a track back to Barafu Camp for breakfast, before finally heading down to Millennium Camp for a long well-earned rest.
Distance covered: 13.4km/8.3miles
Approx. time taken: 12–15 hours
Monday 30th September 2019
Millennium Camp (3790m) to Mweka Gate(1630m) to Weru Weru River Lodge
A gentle trek takes us down to the Mweka Gate, where we complete the park formalities. We are transferred back to our hotel where a welcome shower awaits and the chance to enjoy a refreshing swim, a relaxing massage or perhaps a cold beer.
Distance covered: 12.1km/7.5miles
Approx. time taken: 6 hours
Tuesday 1st October 2019
Weru Weru River Lodge and Moshi
This is a day to relax. We will visit Moshi for lunch and will have the opportunity to purchase souvenirs.
Wednesday 2nd October 2019
Weru Weru Lodge to Heathrow
We say a fond farewell to Tanzania and head back to the UK. There is an option to extend your adventure with a Safari or Zanzibar excursion. See the excursion tab for more details.
Activity Levels and Fitness
This trek is classified as tough due to the number of continuous days trekking, the steepness of the paths, the possible effects of altitude and the mountainous terrain that it encounters.
We trek to the summit via the Lemosho route as it is less popular than other routes but also the added benefit is that it takes an additional day to reach the summit giving you longer to acclimatise. Our treks will be going at a steady to pace to aid with acclimatisation and so that you have an enjoyable experience.  We want you to take in the views whilst you are trekking!
To assist you in having an enjoyable experience, it helps if you have a good base-level of fitness. If you have any concerns or worries over your fitness levels, we are happy to talk this through with you. We can support you with your training by discussing a training plan with you. We also offer a training weekend so that you can experience similar terrain to what you'll experience on the trek.
FAQ's
How fit do I need to be to tackle Kilimanjaro
Like every physical and strenuous activity, it helps to have a good level of fitness.  You don't need to be a mountain marathon runner, though.  A rule of thumb is if you can walk on average 6-8 hours a day for 2 days you will be more than ready.
What is the temperature like on the mountain?
Kilimanjaro is unique in the fact that we will travel through five different climatic zones in just one week.  We will be travelling from the Savannah where temperatures can reach 35-40 degrees during the day to as low as -15 degrees on the summit night.  Daytime temperatures on the mountain generally are warm on the first two days,  gradually cooling the higher you climb.  In wet weather, the temperatures can be colder.
How technical is the climb? Will we need ropes?
The main routes require no technical mountaineering skills. The mountain is very popular and ideal for those who wish to trek.
Do I need a visa?
Yes.  These can be obtained visa the Tanzanian embassy in your country.  Entry visas can be obtained on arrival at Kilimanjaro airport.  As of 2014 prices are $50 for UK/European nationals and £100 for US nationals. Up to date details can be by clicking here
Do I need malaria tablets
If you're just climbing Kilimanjaro the risk is low. That being said, it is always advisable to contact your GP/physician or a travel clinic to seek up-to-date information.  Above 1800 meters the risk of malaria is drastically reduced.
What other vaccinations do I require?
As a rule of thumb and we always advise you contact a travel clinic, GP or Physician. You will possibly require the following, please beware –  that some of the advised vaccinations will need to be taken weeks/months before your departure date to be effective – Yellow fever  – no less than 10 days before travel
                        Typhoid  – no less than 10 days before travel
                        Hepatitis A  – no less than2 weeks before travel
                        Diphtheria -no less than 3 months before travel
I've never camped before. What's it like and do I need to buy anything special?
You will be camping on the mountain and if you've not been camping before it can be a little daunting.  You'll require a warm sleeping bag and we advise a 3/4 season sleeping bag which is comfortable to -10 degrees, also bring along a sleeping liner for added warmth. Inflatable sleeping mats are a must as the ground is often rocky and the mats help you achieve a comfortable nights sleep.  All tents are large enough for two people and your bags.  It might be an idea to take along an inflatable travel pillow for added comfort. Sleeping bags and inflatable mats can be hired from Tanzania, but bring along your own sleeping bag liner.  Please indicate in the equipment hire section of your booking form, if this is required.
Passport.
The Tanzanian immigration requires that your passport is valid for 6 months from the date of travel.  For more information please click here
What food do I need to bring with me
All food is supplied on the mountain and you'll be amazed at the quantity you'll receive.  Breakfast, lunch and dinner will be prepared for you by the camp cooks.  Popcorn and snacks in camp will be provided along with hot water for tea/coffee and Milo.  It is advisable to bring some home comforts with you and high energy snacks you can eat during the day are also a great idea (nuts, seeds, raisins).  If you'd like to spice up your meal a bottle of Tabasco sauce is very popular.
Personal equipment.
We have a very concise equipment list, but as a rule of thumb, you'll need a comfortable and worn in pair of walking boots, waterproof jacket and overtrousers trousers/pants.  At first, you may think why would I need waterproof jackets and trousers, but it can rain on the mountain and the extra layers on summit night will help you stay warm and keep any wind out.  Please note ski jackets and trousers are not typically waterproof and if wet take a long time to dry out, so are not recommended.
Will I have to carry all my gear on the mountain?
The simple answer is no.  You'll have your own porter, who along with carrying other camping equipment, will carry the majority of your gear.
What will I be carrying during the day
You will just be required to carry a day rug sack 25–35 litre in size. In this, you'll have two litres of water, food for the day, a warm top, your own personal medical pack, sun cream, hat, gloves, camera, waterproof jackets and trousers/pants.
What size bags should I bring?
On the mountain, your kit and gear will be carried by the porters.  For their comfort and safety, we ask that you bring a duffle style bag (no frames or suitcases) of around 50/60 litres in size.  The weight allowed to be carried by the porters is restricted to 15kg. Your personal rucksack should be around 25/35 litre in size. With both your personal rucksack and duffle bag it is recommended that you purchase waterproof liner bags.
What will I need in my 1st aid kit
The most common problems people experience on a trek of this kind are blisters, cuts, grazes and headaches.  Please preview the detailed personal first aid kit in the equipment list.
Personal medication
For personal medication, pack accordingly and bring spares just in case. If you have any medical conditions, you must  notify us on the booking form and again on arrival at the lodge. If your conditions change please contact us before departure.
Will I get altitude sickness?
This is the most commonly asked question for anybody attending the trip, and quite rightly so. Everybody at some stage during the trip will experience some form of altitude sickness. This is, although very uncomfortable at the time is our bodies way of adjusting to the change in altitude. The symptoms range from headaches to feeling nausea and we can take simple medication to overcome these feelings.  As you acclimatise these symptoms should pass.  The advised method of aiding acclimatisation is to walk very, very slowly, drink 3-4 litres of water each day to keep hydrated during the trek, eat little and often (even if you don't feel like it) and eat lots at meal times. You will be monitored on the trek and be advised accordingly.
Can I take Diamox?
The use of Diamox ( Acetazolamide) has always been a topic of much discussion.  The drug was designed for the treatment of a number conditions, including glaucoma, sleep apnea, epileptic seizures to list a few.  It was never designed for helping with the acclimatisation process.  That being said, there are many reported accounts of the drug aiding with acclimatisation and now can be prescribed from your GP or Physician.  There is a proven method of administration and we can discuss this with you on arrival in Tanzania.  All we ask is you let us know if you are intending to self-administrator, this will help with our on the mountain medical care.
What is the hotel like?
We have chosen the Weru Weru river Lodge for its location to the start of the trek, transfer time from the airport and its traditional African feel.  The hotel has a buffet style restaurant serving both local and international cuisine, offers massage treatments, has a swimming pool and you can take a camel ride too!  The hotel has a secure location to store luggage when we are on the mountain and a safe to store important documents and money.
What is the currency?
US Dollars are accepted in most places, such as restaurants and hotels. Tanzanian shillings are accepted everywhere and can be exchanged for US Dollars in Moshi and on arrival at Kilimanjaro airport. 
Do I need to tip?
In many countries around the world, tipping is part of the culture.  Tipping in Tanzania can boost the earnings for some people.  Our guides, although being paid will require tipping. The suggested tip amount will be in the region of $200, at the end of the week  and you'll see why we tip.
Will there be opportunity to go on safari?
Fantastic safaris are available as a separate excursion after the trek and can be added to the end of your trip. It is highly recommended to consider. The famous Ngorongoro nature reserve is highly recommended and is combined with visits to Lake Manyara and Tarangire National Park for a two or three-day excursion.  There are one-day safaris available too.
How safe are my travel documents?
There is a safe in the hotel to store your travel documents or you can keep them in your day sack on the trek.  We advise that you take 2/3 photocopies as you'll need your passport on registering with the national park on day 1 of the trek.
Is the water on the mountain fit to drink.
The water is taken from various streams and carried by our porters. The water is boiled and is okay to drink.  If you prefer, you can bring water purification tablets.  To remove the taste the tablets leave behind, it is advisable to bring some powdered energy drink mix.
What toiletries should I bring on the trek?
Contrary to believe the most common illness in any expedition overseas (and the UK) is sickness and diarrhoea.  This you would think is from drinking the water, but in reality, it is from personal hygiene (dirty hands/finger nails).  We suggest bringing a small nail brush, baby wipes and sanitising gel.
Are transfers from Kilimanjaro airport included in the trip and how long will the transfer take.
You will be met outside arrivals at Kilimanjaro airport by a representative from Mountains in Mind, who will be holding a board with our company's logo. You will transferred straight to the Weru Weru River Lodge. The journey time is approx. 35 minutes.
What do I need to do when I arrive at Kilimanjaro airport.
On entering the terminal building you will be required to complete a tourist visa form (if not obtained prior to arrival), a green and white tourist forms.  Then you'll proceed to passport control and immigration.
What type of electric plug adapters do I need?
The standard UK 3 pin plug will work in Tanzania.
£3645 per person
(group discounts available)
You can book your Kilimanjaro Adventure today by paying a £250 deposit.
We will then send you a booking information form once we have received your deposit. Should any of the information you provide suggest that you may not be able to complete the expedition we will refund your deposit in full.
Hopefully you will be accepted and we will then set up a payment plan for the remaining balance.
0
stars based on
0
reviews